NEW

M

ARINE PARK RULES LIMITS DIVERS TO 525 PER DAY.

BOOK

NOW AND SECURE YOUR PLACE ON-BOARD! THE MANTA QUEEN FLEET HOLDS ALL NECESSARY PERMITS TO DIVE AT SIMILAN ISLANDS AND RICHELIEU ROCK, 100 % GUARANTEE!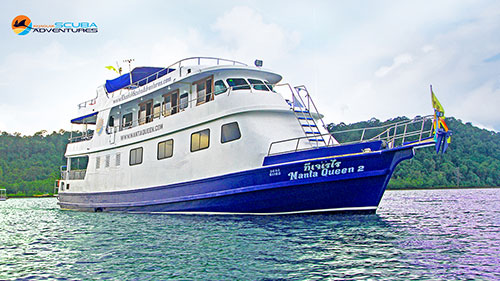 Manta Queen 2 is running a 3 days & 3 nights trip to Koh Bon, Koh Tachai, Richerieu Rock and Boonsung Wreck.
Manta Queen 2 accommodate 20 guests in comfortable air conditioned cabins of which three different types are available: Twin bed cabins, Double bed cabins and 4 bed shared cabins to suit groups and families.
Our liveaboard vessel is 24 meters long and 5 meters wide wooden hull built boat that is manned with 5 dive staff and 6 boat crew.
All meals on board are served buffet style freshly cooked from the on board kitchen. Snacks and fruits are served in between dives. The dinghy gives you the opportunity to spend some time on the beautiful beaches.
Nitrox is also available onboard as well as Nitrox courses (EAN) and a wide range of PADI Courses i.e. Open Water Course, Advanced Open Water Course, Deep Speciality and many more.
11 world class dives at Thailand´s premier dive destination. DIVE - EAT - SLEEP – REPEAT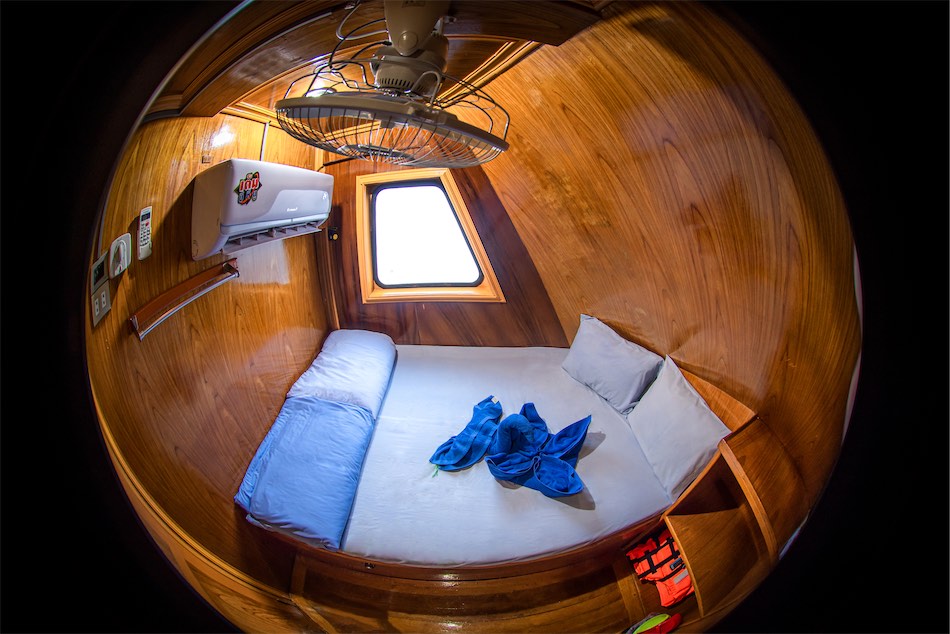 AIRCON DOUBLE BED
NON-EN SUITE CABIN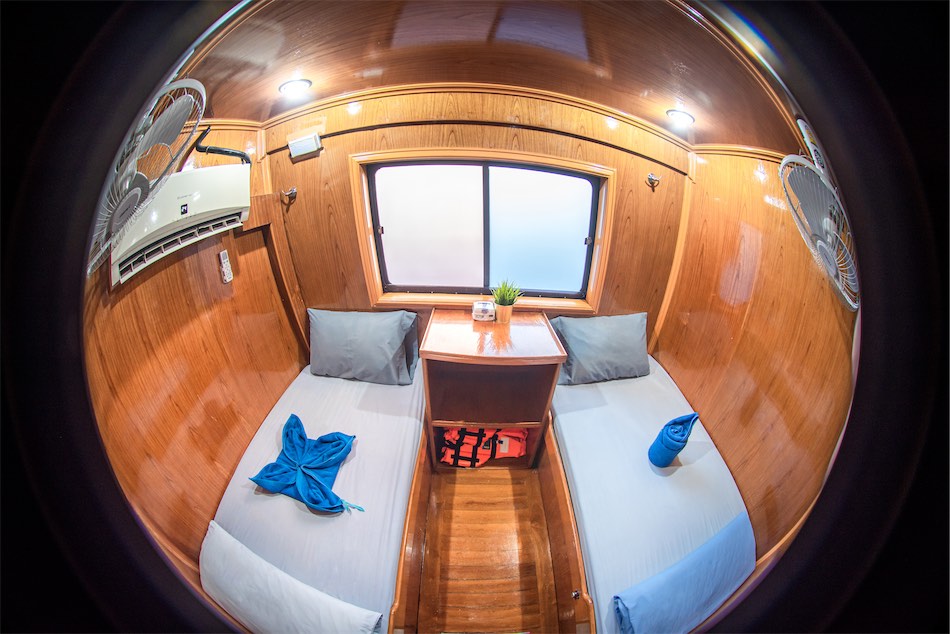 AIR CON TWIN BED
NON-EN SUITE CABIN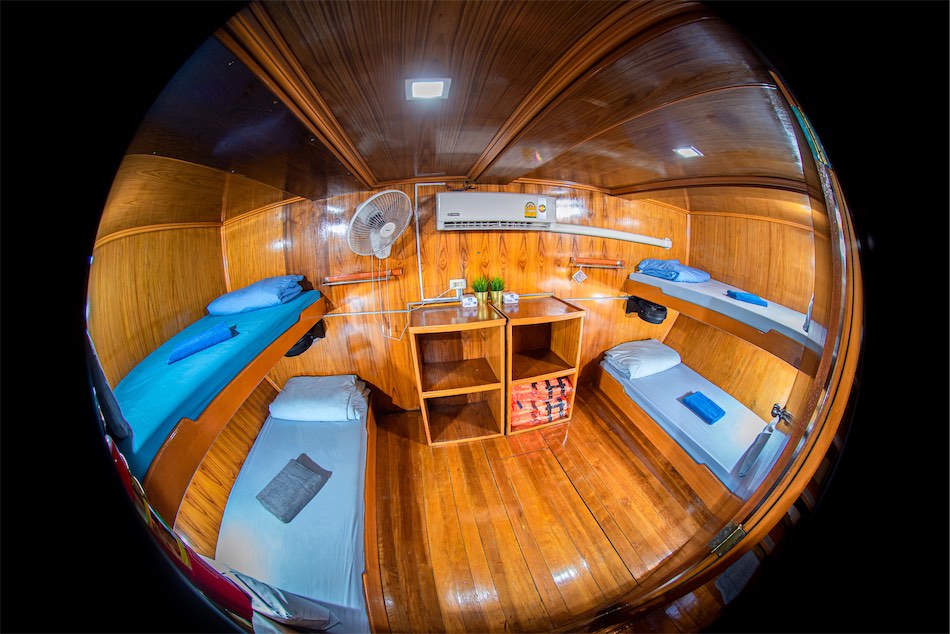 AIR CON 4 BED SHARE
NON-EN SUITE CABIN
WHATS INCLUDED:
The cabin space you have booked
Professional, PADI certified dive guides or instructors
Small dive groups of 4 divers
Drinking water, coffee, tea and hot or cold drinking chocolate
Breakfast, lunch, light snacks, fresh fruit and dinner
Free Wi-Fi Hot-Spot access (some of the days you might not have any signal)
Free transfer in Khao Lak area only
12-liter, aluminum diving tank
Full foot fins, mask and snorkel
Weight belt and weights (0.850 kg / 2 lb. each)
Torch for night dive
Towel and Shower Gel
WHAT'S EXCLUDED: OPTIONAL ITEMS
"Optional Item" prices do Not include 7% VAT
Full set equipment rental
BCD rental
Regulator rental
Short wetsuit rental
Dive computer
Prescription mask
Full Length 3 mm wetsuit
Diving Insurance
Private Instructor
EAN (Nitrox)
15-liter tanks
Soft drinks onboard
Beer onboard
Shared transfer from Phuket – Khao Lak on the day of departure and return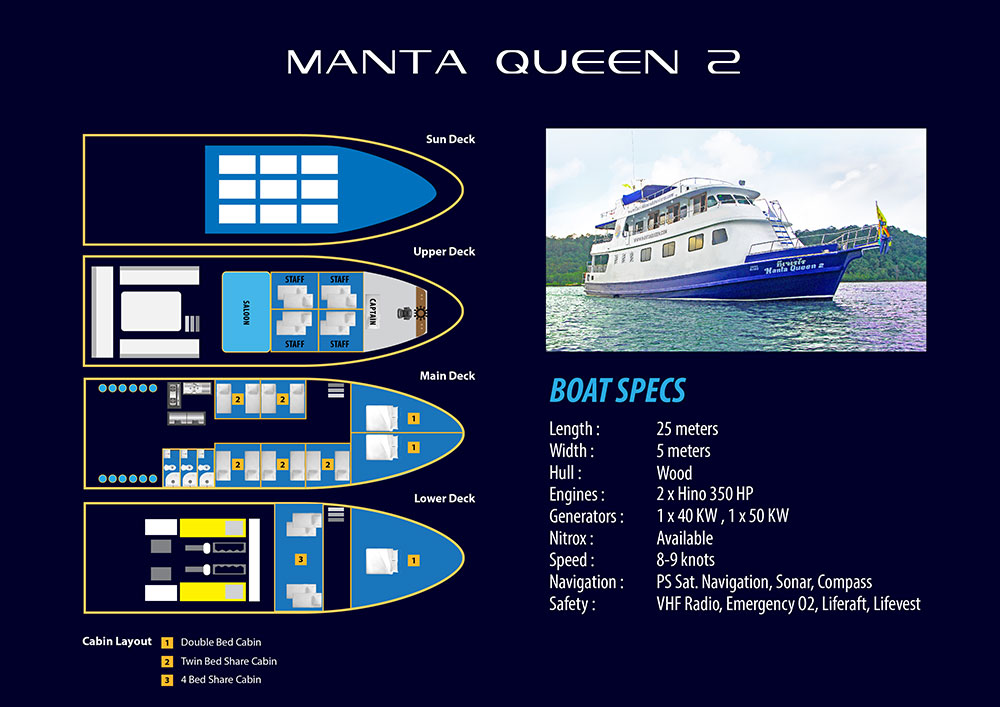 THE FOOD ONBOARD
We pride ourselves to offer the best tasting Thai cuisine on board our complete fleet. We offer a variety of Western dishes too during your cruise. We are able to cater to Vegetarians, Vegans and on all our boats we banned the use of Monosodium Glutamate. If you are allergic to Nuts or other food ingredients please tell us during your check-in at Khao Lak Scuba Adventures. For more information or special requirements, please contact us.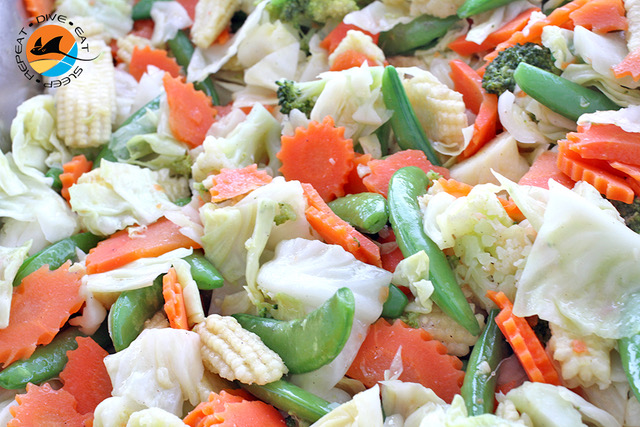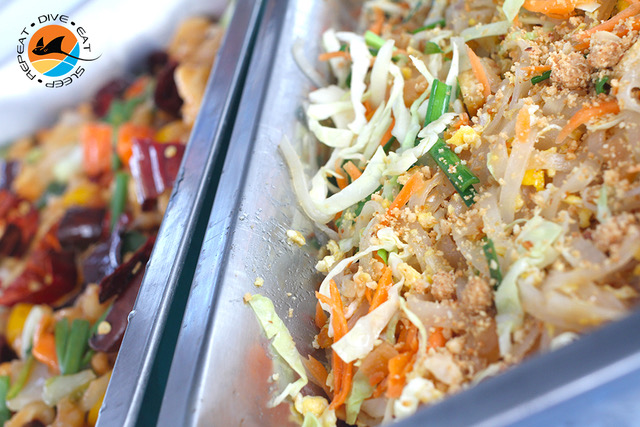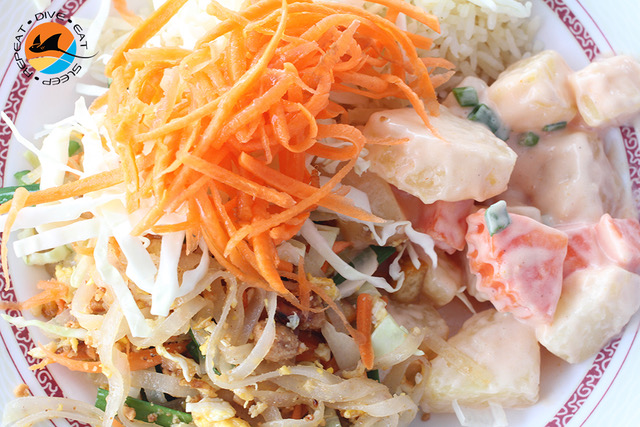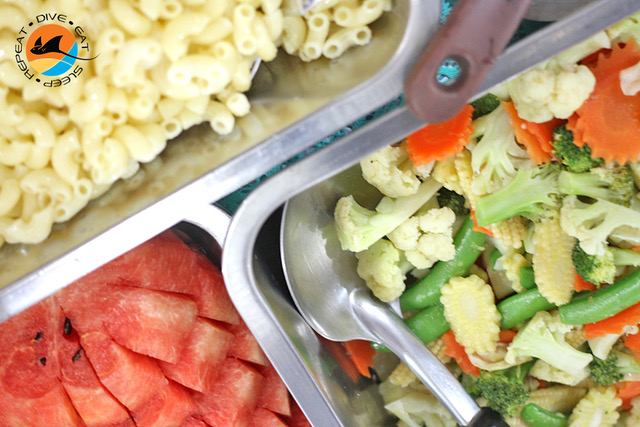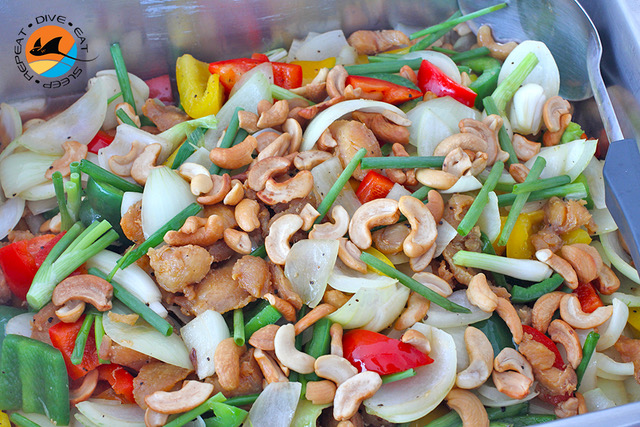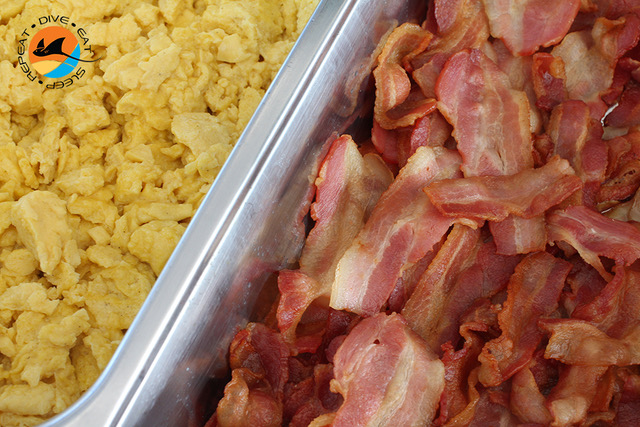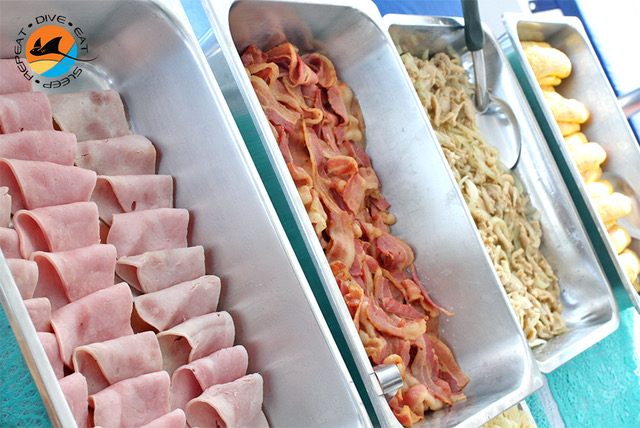 Departure Night
04.00 PM - Check in start
06.00 PM - Departure to the pier
06.30 PM - General boat briefing
06.45 PM - Cabin allocation
07.15 PM - Equipment set up
07.45 PM - Light on-board dinner
Day One
07.00 AM - Wake up call
07.30 AM - Dive/Safety briefing
07.45 AM - Dive briefing #1 "Koh Bon, West Ridge"
09.00 AM - Breakfast
11.30 AM - Dive briefing #2 "Koh Bon, West Ridge"
01.00 PM - Lunch
03.30 PM - Dive briefing #3 "Tachai Pinnacle"
05.00 PM - Snacks
06.15 PM - Dive briefing #4 "Tachai Beach"
08.00 PM - Dinner
Day Two
06.00 AM - Wake up call
06.30 AM - Dive briefing #5 "Tachai The Dome"
08.00 AM - Breakfast
10.30 AM - Dive briefing #6 "Richelieu Rock"
12.15 PM - Lunch
01.45 PM - Dive briefing #7 "Richelieu Rock"
03.30 PM - Snacks
05.30 PM - Dive briefing #8 "Richelieu Rock"
07.30 PM - Dinner
Day Three
06.00 AM - Wake up call
06.30 AM - Dive briefing #9 "Koh Bon Pinnacle"
08.00 AM - Breakfast
11.15 AM - Dive briefing #10 "Boonsung Wreck"
12.30 PM - Lunch
02.00 PM - Dive briefing #11 "T-13 wreck"
03.15 PM - Departure briefing & Snacks
04.30 PM - Return to the pier
05.00 PM - Transfer to the check out lounge
05.30 PM - Transfer To Your Hotel
You will arrive back to your Phuket hotels approximately between 7 to 8 pm.
Join us onboard "THE MANTA QUEEN FLEET" for a amazing Cruise to one of the top divespots in the world. INQUIRE NOW