NEW

M

ARINE PARK RULES LIMITS DIVERS TO 525 PER DAY.

BOOK

NOW AND SECURE YOUR PLACE ON-BOARD! THE MANTA QUEEN FLEET HOLDS ALL NECESSARY PERMITS TO DIVE AT SIMILAN ISLANDS AND RICHELIEU ROCK, 100 % GUARANTE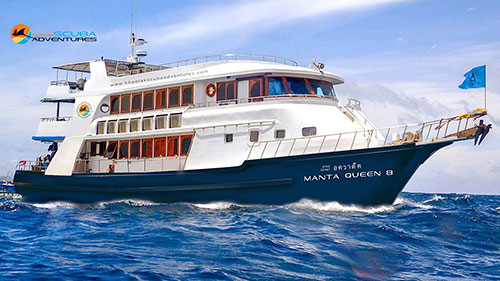 Manta Queen 8 is running a 5 days & 5 nights trip to Similan Islands, Koh Bon, Koh Tachai, Surin Islands, Richelieu Rock and Boon Sung Wreck.
Manta Queen 8 accommodates 24 guests in comfortable air conditioned double ensuite, twin ensuite, twin non ensuite cabins.
Our liveaboard vessel is a 28 meters long and 7 meters wide wooden hull built boat that is manned with 5 dive staff and 6 boat crew.
There is plenty of space to enjoy the time in between dives in the saloon with HD-TV, the open dining area or on the large sundeck.
All meals on board are served buffet style freshly cooked from the on board chef. Snacks and fruits are served in between dives. The dinghy gives you the opportunity to spend some time on the beautiful beaches.
Nitrox is also available onboard as well as Nitrox courses (EAN) and a wide range of PADI Courses i.e. Open Water Course, Advanced Open Water Course, Deep Speciality and many more.
19 world class dives at Thailand´s premier dive destination.
DIVE - EAT - SLEEP – REPEAT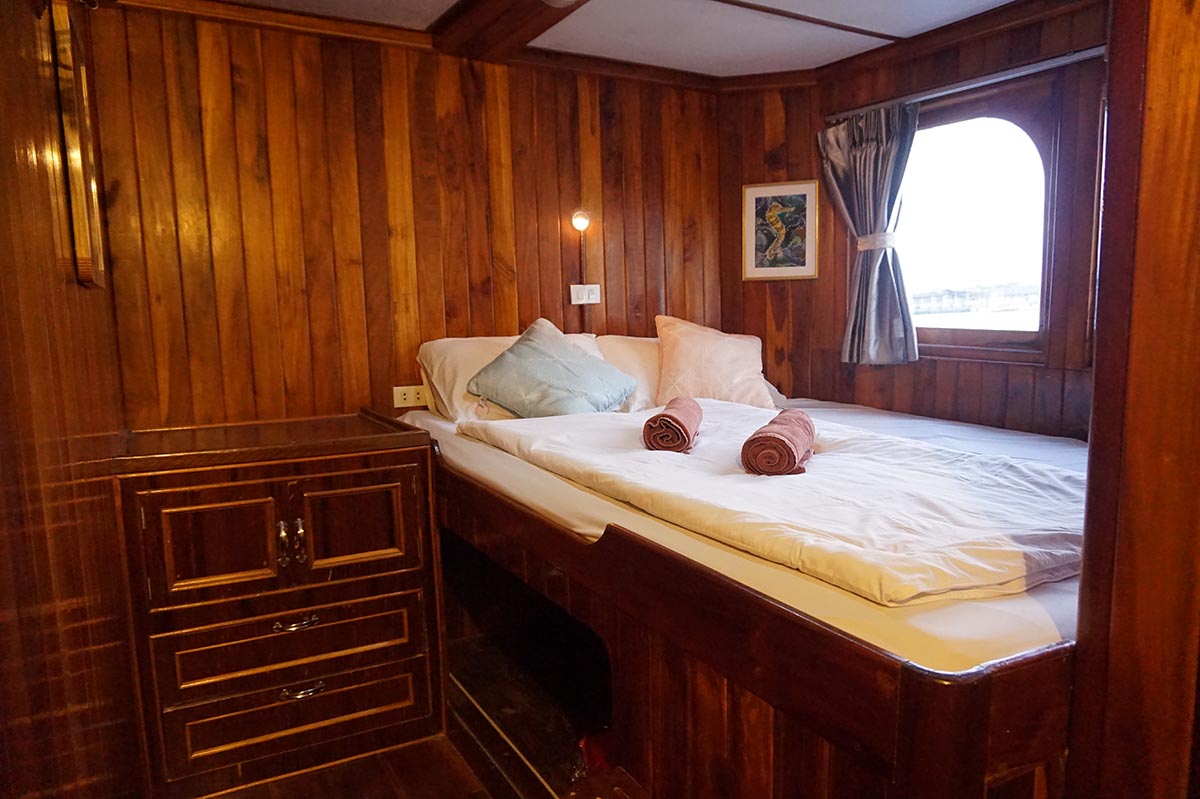 AIRCON DOUBLE BED
EN SUITE CABIN
27500 ฿ +7% VAT
2000 ฿ National Marine Park Fee to be paid in cash only at the check in
AIR CON TWIN BED
EN SUITE CABIN
27500 ฿ +7% VAT
2000 ฿ National Marine Park Fee to be paid in cash only at the check in
AIR CON TWIN BED
NON-EN SUITE CABIN
24500 ฿ +7% VAT
2000 ฿ National Marine Park Fee to be paid in cash only at the check in
SPECIAL DEALS on MQ8!
TRIPS DEPARTING IN OCT-NOV-DEC-APRIL-MAY
TWIN BED NON ENSUITE

21,500 ฿ + 7% VAT 1505

TWIN/DOUBLE BED ENSUITE

24,500 ฿ + 7% VAT 1715

TRIPS DEPARTING IN JANUARY-FEBRUARY-MARCH

TWIN BED NON ENSUITE

22,500 ฿ + 7% VAT 1575

TWIN/DOUBLE BED ENSUITE

25,500 ฿ + 7% VAT 1785
All trips: + Park Fee 2000 Thb
WHATS INCLUDED:
All meals, fruits and snacks
Drinking water, tea and coffee
Experienced multilingual dive leaders
Free Wifi* Hot-Spot access
Torch for night dives
Towels
WHAT'S EXCLUDED: OPTIONAL ITEMS
Prescriptive diving mask 200 THB per day
Long 3 mm wetsuit 200 THB per day
Diving Insurance 250 THB per day
15 liter scuba diving cyliner
EAN (Nitrox) 32% per fill 150 THB
Soft drinks onboard 40 THB
Beer onboard 70 THB
Scheduled group transfer from Phuket to Khao Lak return ticket on day of departure and arrival 600 THB
RICHELIEU ROCK
Richelieu Rock (called in Thai Hin Plo Naam) is a dive site in the Andaman Sea near the Surin Islands. It is part of the Mu Koh Surin National Marine Park although being about 18 km east of Surin Island. The most famous dive sites of Thailand, Richelieu Rock is an isolated diving pinnacle to the east of the Surin Islands. The site is marked by the top with a pinnacle which is 1 metre above the sea level during low tide, and disappears underwater during high tide.
READ MORE
v
---
KOH TACHAI
A solitary island located 20 km north of Koh Bon within the tour of all Manta Queen Diving Boats and Live aboards cruising along the Similan diving Sites, Koh Tachai has magnificent white sandy Thailand Scuba & Snorkel beaches with two interesting Thailand dive sites, Southern Thailand diving Pinnacles and Scuba diving Thailand Eastern Reef. Thailand diving Koh Tachai Pinnacle or Twin Peaks, are a pair of submerged Thailand diving pinnacles located 500 metres south of Koh Tachai and are marked by a couple of buoys in the National Marine Park Similan Islands and Surin Island.
READ MORE
v
---
KOH BON WEST RIDGE
Koh Bon Thailand is a granite islet situated some distance to the northwest of the Similan Islands, however it is still considered to be part of the Similan National Marine Park. A favourite dive site is the western ridge of the islet two hours away from the Similan Islands, which falls steeply away to the deep. Our Manta Queen fleet usually park in a bay located south of the ridge, where they have maximum protection against wind and strong waves.
READ MORE
v
---
ELEPHANT HEAD ROCK
If you've ever heard about the Similan Islands, then it's certain you've heard about this site. Located between Islands 7 and 8, this first thing you will notice before you dive is one massive boulder rising above the surface, and next to it are another three boulders. The site is named for the largest and tallest boulder, which is said to resemble the head of an elephant. You may need to use your imagination as you look.
READ MORE
v
---
HIN LUANG KOH BON
Located 200 meters north of Koh Bon's north ridge not far from Similan diving, this impressive deep Thailand pinnacle is worth a Thailand liveaboard dive even if it's just to stare in awe at the breath taking topography of this Thailand diving underwater mountain.
This is one of the Thailand diving sites where you will be asked to do a negative scuba entry. The top of the diving pinnacle starts at 18m, so during the diving descent you are completely exposed to the currents.
READ MORE
v
---
CHRISTMAS POINT
This is definitely a dive site to bring your camera! With the maze of granite boulders and swim-throughs photos really capture the beauty of this site.
Ribbon eels and Orange-spotted Pipefish can be seen around the edge of this dive site as well as Napoléon Wrass and the occasional Eagle Ray. Anemones with Porcelain Crabs inhabit the crevasses and Nudibranches galore can be seen crawling over the boulders.
---
NORTH POINT
Similan Liveaboard North Point also known as Similan scuba diving Rocky Point is a Thailand liveaboard dive site comprising submerged rocks located to the northeast of similan island 9 and north of similan island Breakfast Bend. Marked by a diving buoy one kilometre north of the similan liveaboard island, the huge boulders are surrounded by large areas of sand. The northern boulders extend to below 35 metres thailand liveaboard diving depth.
---
DEEP SIX
Thailand Similan Liveaboard diving Deep Six is a cluster of submerged boulders is located on the north of Similan Island #7 (Koh Pa-Yu). The Khao Lak Liveaboard Divesite Deep Six is an extension of the main island that continues underwater, with a maximum depth of 35 to 40 metres. There are many outcrops throughout the area, along with scattered rocks with soft corals and sea fans on the outer parts.
READ MORE
v
---
WEST OF EDEN
When East of Eden became too crowded divers started to look for other Liveaboard Thailand dive sites in the area, they went to the west side of Koh Pa-Yu (Island 7) and discovered that the Garden of Eden does not only face east.
Like other western Thailand Liveaboard PADI dive sites in the Similan Islands, West of Eden basically comprises giant granite boulders that create nice canyons, with walls covered with colourful soft corals and giant sea fans.
READ MORE
v
---
EAST OF EDEN
Thailand diving site East of Eden (called Ruan Gluay-Mai in Thaiand) East of Koh Pa-Yu (Similan Island diving number 7), the East of Eden Similan dive site runs from North to South and is an ideal scuba similan live aboard dive site for reef diving in Thailand.
The reef slope ranges from 5 to 40 metres. In the north of the Similan diving Island, there is a cluster of staghorn coral and blue coral punctuated by sparse rocks for Thailand Liveaboard Trips. In the middle of the site, you will find mostly sand and scattered fire corals.
READ MORE
v
---
ANITA'S REEF
Similan Island liveaboard diving Anita's Reef (Hin Muan Deaw) spreads betwen between two Thailand liveaboard islands, Similan #5 and Similan #6 which are two of the smaller liveaboard islands adjacent to one another. The scubareef starts from the east of Similan island 6 and runs to the south of Similan island 5.
The reef slope from the reef flat at five to ten metres to the sandy bottom at a maximum of 26 to 28 metres. Shallow Thailand liveaboard coral gardens comprise huge pore and staghorn corals with small pinnacles.
READ MORE
v
---
BOON SUNG WRECK
Sunk in 1985, this tin dragger went down in 20 meters of water, after somebody flushed the toilet and the water started rushing in and did not stop!
Over several years, it became colonized by thousands upon thousands of fish, glad to be lucky enough to have to an artificial reef in a vast expanse of sand. When the tsunami hit in 2004, it broke the structure into four main pieces, making it ever more interesting.
READ MORE
v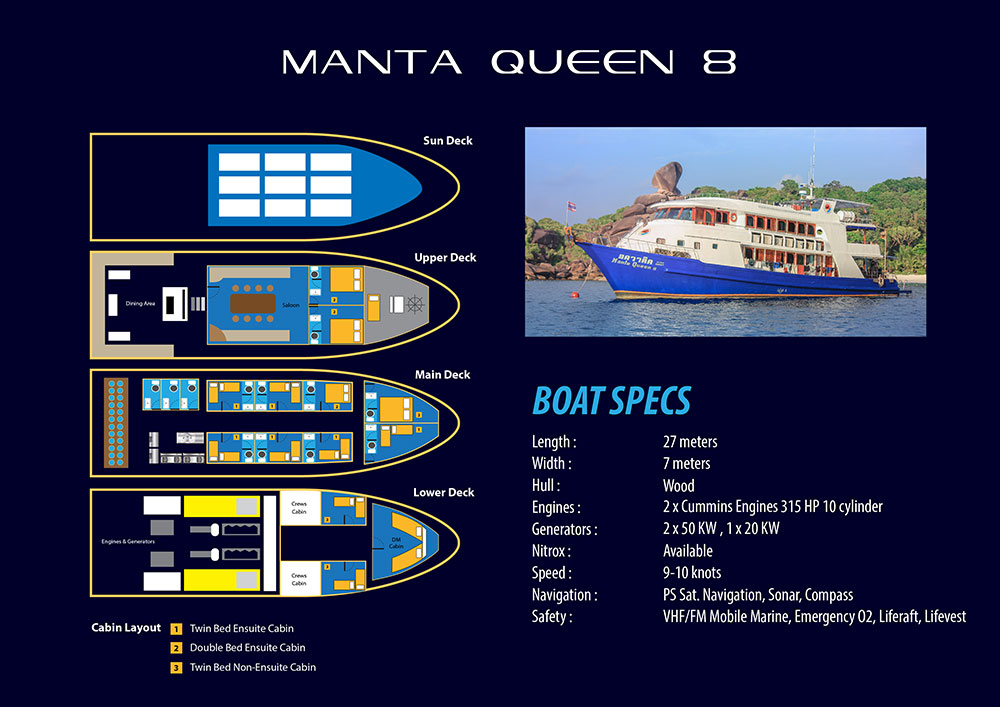 THE FOOD ONBOARD
We pride ourselves to offer the best tasting Thai cuisine on board our complete fleet. We offer a variety of Western dishes too during your cruise. We are able to cater to Vegetarians, Vegans and on all our boats we banned the use of Monosodium Glutamate. If you are allergic to Nuts or other food ingredients please tell us during your check-in at Khao Lak Scuba Adventures. For more information or special requirements, please contact us.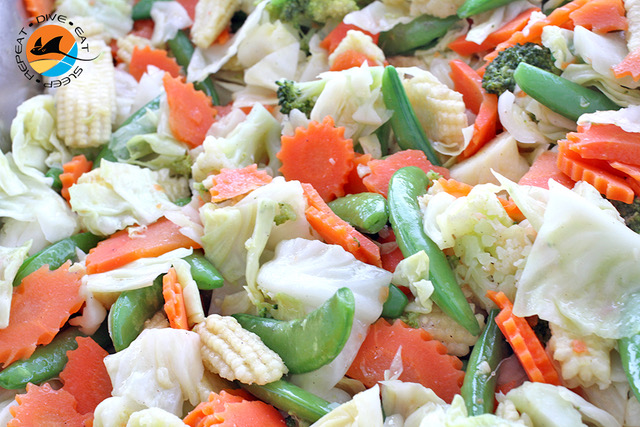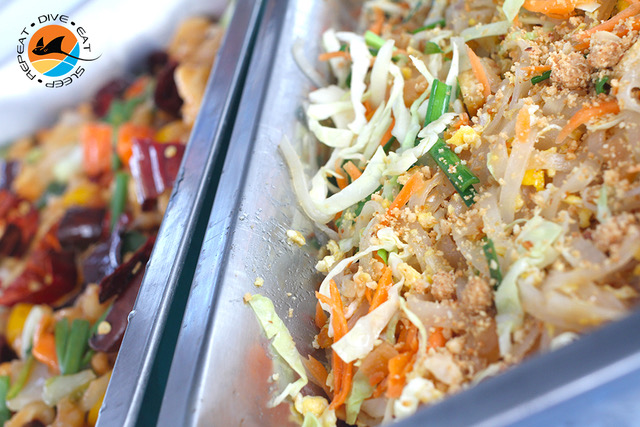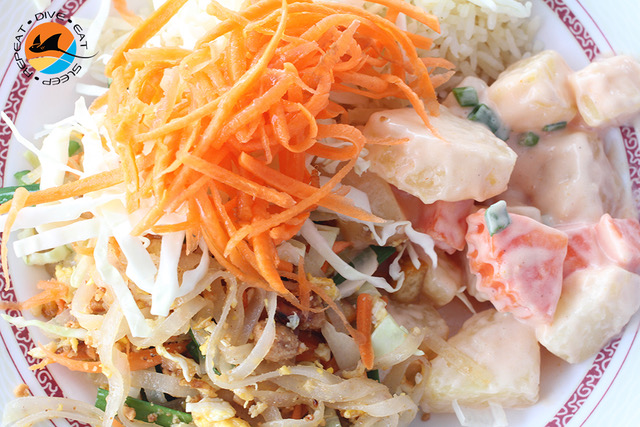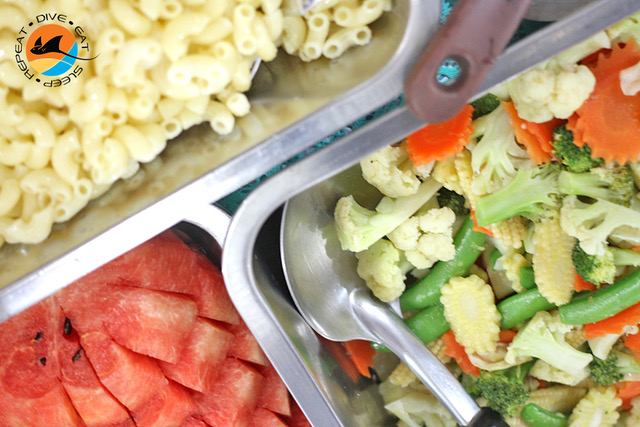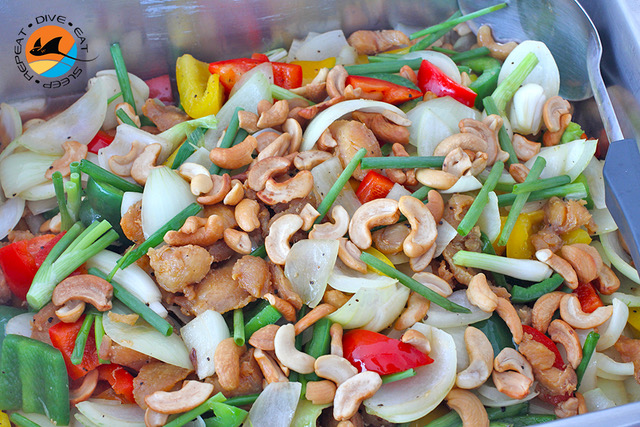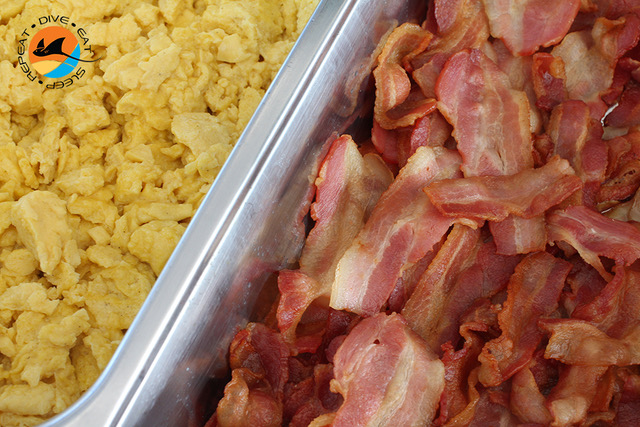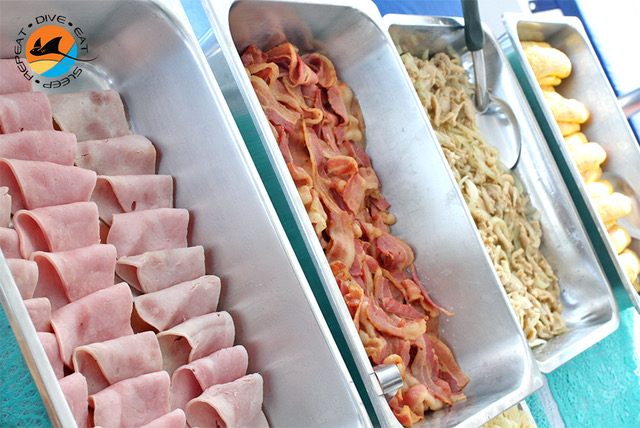 Departure Night
04:00 Check in start
06:00 departure to the pier
06:30 general boat briefing
06:45 cabin allocation
07:15 equipment set up
07:45 light on-board dinner
Day One
07:00 Wake up call
07:30 Safety/Dive Briefing
08:15 Dive briefing #1 "Similan Islands"
10:00 Breakfast
11:45 Dive briefing #2 "Similan Islands"
01:30 Lunch
03:30 Dive briefing #3 "Similan Islands"
05:00 Snacks
06:15 Dive briefing #4 "Night Dive – Similan Islands"
08:00 Dinner
Day Two
06:00 Wake up call
06:30 Dive briefing #5 "Similan Islands"
08:00 Breakfast
10:30 Dive briefing #6 "Similan Islands"
12:15 Lunch
01:45 Dive briefing #7 "Similan Islands"
03:30 Snacks
05:00 Dive briefing #8 "Similan Islands"
07:00 Dinner
Day Three
06:00 Wake up call
06:30 Dive briefing #9 "Koh Bon, West Ridge"
08:15 Breakfast
10:15 Dive briefing #10 "Koh Bon, West Ridge"
12:00 Lunch
01:30 Dive briefing #11 "Tachai Pinnacle"
03:15 Snacks
05:00 Dive briefing #12 "Tachai Pinnacle"
07:00 Dinner
Day Four
06:00 Wake up call
06:30 Dive briefing #13 "Surin Islands"
08:00 Breakfast
10:30 Dive briefing #14 "Richelieu Rock"
12:15 Lunch
01:45 Dive briefing #15 "Richelieu Rock"
03:30 Snacks
05:00 Dive briefing #16 "Richelieu Rock"
07:00 Dinner
Day Five
05:45 Wake up call
06:15 Dive briefing #17 "Koh Bon Pinnacle"
08:00 Breakfast
09:00 Dive briefing #18 "Koh Bon, West Ridge"
11:15 Departure briefing
11:45 Lunch
01:15 Dive briefing #19 "Boonsung wreck"
02:30 Snacks
04:00 Transfer to the check out lounge
04:30 Transfer To Your Hotel
You will arrive back to your Phuket hotels approximiately between 6 to 7 pm.
Manta Queen 8 Schedule
(Click anywhere on the schedule below to print it.)
| Trip Name | Boat | Departure Date | Arrival Date | Destination |
| --- | --- | --- | --- | --- |
| MQ8#113 5D/5N | Manta Queen 8 | 2020-10-23 | 2020-10-28 | 5/5 SIM-BON-TAC--SUR-RICH-WRECK |
| MQ8#114 5D/5N | Manta Queen 8 | 2020-10-29 | 2020-11-03 | 5/5 SIM-BON-TAC--SUR-RICH-WRECK |
| MQ8#115 5D/5N | Manta Queen 8 | 2020-11-04 | 2020-11-09 | 5/5 SIM-BON-TAC--SUR-RICH-WRECK |
| MQ8#116 5D/5N | Manta Queen 8 | 2020-11-10 | 2020-11-15 | 5/5 SIM-BON-TAC--SUR-RICH-WRECK |
| MQ8#117 5D/5N | Manta Queen 8 | 2020-11-16 | 2020-11-21 | 5/5 SIM-BON-TAC--SUR-RICH-WRECK |
| MQ8#118 5D/5N | Manta Queen 8 | 2020-11-22 | 2020-11-27 | 5/5 SIM-BON-TAC--SUR-RICH-WRECK |
| MQ8#119 5D/5N | Manta Queen 8 | 2020-11-28 | 2020-12-03 | 5/5 SIM-BON-TAC--SUR-RICH-WRECK |
| MQ8#120 5D/5N | Manta Queen 8 | 2020-12-04 | 2020-12-09 | 5/5 SIM-BON-TAC--SUR-RICH-WRECK |
| MQ8#121 5D/5N | Manta Queen 8 | 2020-12-10 | 2020-12-15 | 5/5 SIM-BON-TAC--SUR-RICH-WRECK |
| MQ8#122 5D/5N | Manta Queen 8 | 2020-12-16 | 2020-12-21 | 5/5 SIM-BON-TAC--SUR-RICH-WRECK |
| MQ8#123 5D/5N | Manta Queen 8 | 2020-12-22 | 2020-12-27 | 5/5 SIM-BON-TAC--SUR-RICH-WRECK |
| MQ8#124 5D/5N | Manta Queen 8 | 2020-12-28 | 2021-01-02 | 5/5 SIM-BON-TAC--SUR-RICH-WRECK |
| MQ8#125 5D/5N | Manta Queen 8 | 2021-01-03 | 2021-01-08 | 5/5 SIM-BON-TAC--SUR-RICH-WRECK |
| MQ8#126 5D/5N | Manta Queen 8 | 2021-01-09 | 2021-01-14 | 5/5 SIM-BON-TAC--SUR-RICH-WRECK |
| MQ8#127 5D/5N | Manta Queen 8 | 2021-01-15 | 2021-01-20 | 5/5 SIM-BON-TAC--SUR-RICH-WRECK |
| MQ8#128 5D/5N | Manta Queen 8 | 2021-01-21 | 2021-01-26 | 5/5 SIM-BON-TAC--SUR-RICH-WRECK |
| MQ8#129 5D/5N | Manta Queen 8 | 2021-01-27 | 2021-02-01 | 5/5 SIM-BON-TAC--SUR-RICH-WRECK |
| MQ8#130 5D/5N | Manta Queen 8 | 2021-02-02 | 2021-02-07 | 5/5 SIM-BON-TAC--SUR-RICH-WRECK |
| MQ8#131 5D/5N | Manta Queen 8 | 2021-02-08 | 2021-02-13 | 5/5 SIM-BON-TAC--SUR-RICH-WRECK |
| MQ8#132 5D/5N | Manta Queen 8 | 2021-02-14 | 2021-02-19 | 5/5 SIM-BON-TAC--SUR-RICH-WRECK |
| MQ8#133 5D/5N | Manta Queen 8 | 2021-02-20 | 2021-02-25 | 5/5 SIM-BON-TAC--SUR-RICH-WRECK |
| MQ8#134 5D/5N | Manta Queen 8 | 2021-02-26 | 2021-03-03 | 5/5 SIM-BON-TAC--SUR-RICH-WRECK |
| MQ8#135 5D/5N | Manta Queen 8 | 2021-03-04 | 2021-03-09 | 5/5 SIM-BON-TAC--SUR-RICH-WRECK |
| MQ8#136 5D/5N | Manta Queen 8 | 2021-03-10 | 2021-03-15 | 5/5 SIM-BON-TAC--SUR-RICH-WRECK |
| MQ8#137 5D/5N | Manta Queen 8 | 2021-03-16 | 2021-03-21 | 5/5 SIM-BON-TAC--SUR-RICH-WRECK |
| MQ8#138 5D/5N | Manta Queen 8 | 2021-03-22 | 2021-03-27 | 5/5 SIM-BON-TAC--SUR-RICH-WRECK |
| MQ8#139 5D/5N | Manta Queen 8 | 2021-03-28 | 2021-04-02 | 5/5 SIM-BON-TAC--SUR-RICH-WRECK |
| MQ8#140 5D/5N | Manta Queen 8 | 2021-04-03 | 2021-04-08 | 5/5 SIM-BON-TAC--SUR-RICH-WRECK |
| MQ8#141 5D/5N | Manta Queen 8 | 2021-04-09 | 2021-04-14 | 5/5 SIM-BON-TAC--SUR-RICH-WRECK |
| MQ8#142 5D/5N | Manta Queen 8 | 2021-04-15 | 2021-04-20 | 5/5 SIM-BON-TAC--SUR-RICH-WRECK |
| MQ8#143 5D/5N | Manta Queen 8 | 2021-04-21 | 2021-04-26 | 5/5 SIM-BON-TAC--SUR-RICH-WRECK |
| MQ8#144 5D/5N | Manta Queen 8 | 2021-04-27 | 2021-05-02 | 5/5 SIM-BON-TAC--SUR-RICH-WRECK |
| MQ8#145 5D/5N | Manta Queen 8 | 2021-05-03 | 2021-05-08 | 5/5 SIM-BON-TAC--SUR-RICH-WRECK |
| MQ8#146 5D/5N | Manta Queen 8 | 2021-05-10 | 2021-05-15 | 5/5 SIM-BON-TAC--SUR-RICH-WRECK |
Join us on-board "THE MANTA QUEEN FLEET" for the most amazing cruise to Thailand´s best dive sites. INQUIRE NOW